Fayette County High School / Fayette Academy
Class of 1982
In Memory
Elston Charles "Pete" Driver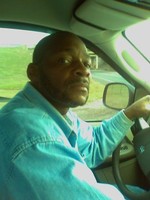 Mr. Pete Driver, age 48 of Fayette, died Saturday, December 8, 2012 at Fayette Medical Center.
Funeral services will be held Thursday, December 13, 2012 at 12:00 Noon at Shady Grove Baptist Church with Rev. O.L. Morgan officiating. The body will lie in state at the church from 11:00 – 12:00 p.m. Burial will be in the adjoining cemetery. The family will receive friends Wednesday evening from 6:00-8:00 p.m. at Norwood Chapel.
Mr. Driver was born February 14, 1964 in Fayette, the son of the late Jimmy and Margie Ann Whiteside Driver. He was a life-long resident of Fayette and was a member of the Shady Grove Missionary Baptist Church. He formerly worked for the State of Alabama Highway Department of Transportation. In addition to his parents, he was preceded in death by his grandparents, Bervil Driver, Lou Ella Driver, Ollie Whiteside and Gladys (Walker) Whiteside.
Survivors include his wife Kim Driver of Fayette; his daughter, Natasha Driver of Fayette; his son, Nathaniel Driver of Fayette; one sister, Sonja Pascal of Gary, Ind.; two brothers, Fred (Rebecca) Driver of Fayette and Ed Driver of Fayette, and a very dear friend, Julius Nichols of Fayette.
Active pallbearers are Gerald Williams, Kevin Whiteside, Tim Driver, Freddie Vincent Haley, Bradley Hallman and Danny Jenkins. Honorary pallbearers are Julius Nichols, Sammie Hindman and his nieces and nephews.
Obituary from Norwood Chapel Funeral Home
http://www.norwoodchapel.net/fh/obituaries/obituary.cfm?o_id=1867450&fh_id=12563
https://www.facebook.com/elston.driver?fref=ts
http://www.findagrave.com/cgi-bin/fg.cgi?page=gr&GSvcid=319166&GRid=101999601