Fayette County High School / Fayette Academy
Class of 1982
In Memory
Jodi Shelton (Godinez)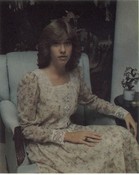 Mrs. Joanna (Jodi) Shelton Godinez of Wilmington, NC, died Saturday, November 8, 1997, at her residence, surrounded by family and friends.

She was born in Cheyenne, WY, December 9, 1964, the daughter of Julius Paul and Dorothy Nell Fisher Shelton of Fayette, AL.

Mrs. Godinez was an active member of the local Christian community. She was employed as a nurse with Cape Fear Pediatrics of Wilmington and was formerly of Tuscaloosa, AL.

Surviving in addition to her parents are her husband Mauricio Godinez of the home; one son, Emmanuel Godinez of the home; a paternal grandmother, Mrs. Emma Sevella Hughes of Fayette, AL; two sisters, Mrs. Gina Dandurand and husband John of Denver, CO, and Miss Susan Shelton of Fayette, AL; one brother, Paul Shelton and wife Claire of Lafayette, IN; and a number of nieces and nephews.

Funeral services will be held 11:00 a.m. Monday November 10, 1997, in College Acres Baptist Church by Rev. Anthony Davis, Pastor Rick Barnes, and Dr. Tom Blackstone. Interment will follow at Oleander Memorial Gardens.
https://www.findagrave.com/cgi-bin/fg.cgi?page=gr&GSvcid=319166&GRid=47118819&